Advertisement

Advertisement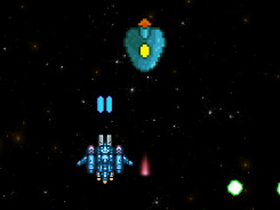 Spaceship Survival Shooter
Space war starts! Join in the game Spaceship Survival Shooter to show your shooting skill in the war. Hold and move your spaceship to shoot the spaceship and other weapons of the enemies. You can collect the timer to slow the enemies' spaceship and weapons. Don't forget to dodge the bullets after you shoot a spaceship of the enemy and props to strengthen your spaceship. How long can you survive in the spaceship war?
Spaceship Survival Shooter is playable on PC, Apple and Android Devices, both mobile and tablet, enjoy the fun of playing the mobile game with friends. The game was played 39541 times since March-5th-2018, and was voted 115 times, 62.83% of players like the game.
Control
: Hold and move to play.
Tags
:
Achievement Games
-
Highscore Games
-
Kids Games
-
Boy Games
-
Avoid Games
-
Collecting Games
-
Skill Games
-
Shooting Games
-
Space Games
-
Mobile Games