Advertisement

Advertisement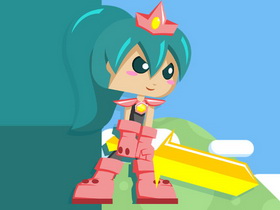 Princess Goldblade Adventure
Princess Goldblade Adventure is an adventure game. What you control is a princess in the game. You need to control the princess to collect the diamonds and pass through the obstacles to complete the level. There are many obstacles including monsters. Help the princess beat the monsters with swords and collect as much as diamonds as you can. Start the adventure with the princess now. Good luck and move up the leaderboard.
Princess Goldblade Adventure is playable on PC, Apple and Android Devices, both mobile and tablet, enjoy the fun of playing the mobile game with friends. The game was played 74376 times since December-25th-2017, and was voted 592 times, 61.69% of players like the game.
Control
: Use the left, right and up arrow keys to control.
Tags
:
Achievement Games
-
Highscore Games
-
Kids Games
-
Avoid Games
-
Collecting Games
-
Adventure Games
-
Platform Games
-
Killing Games
-
Mobile Games